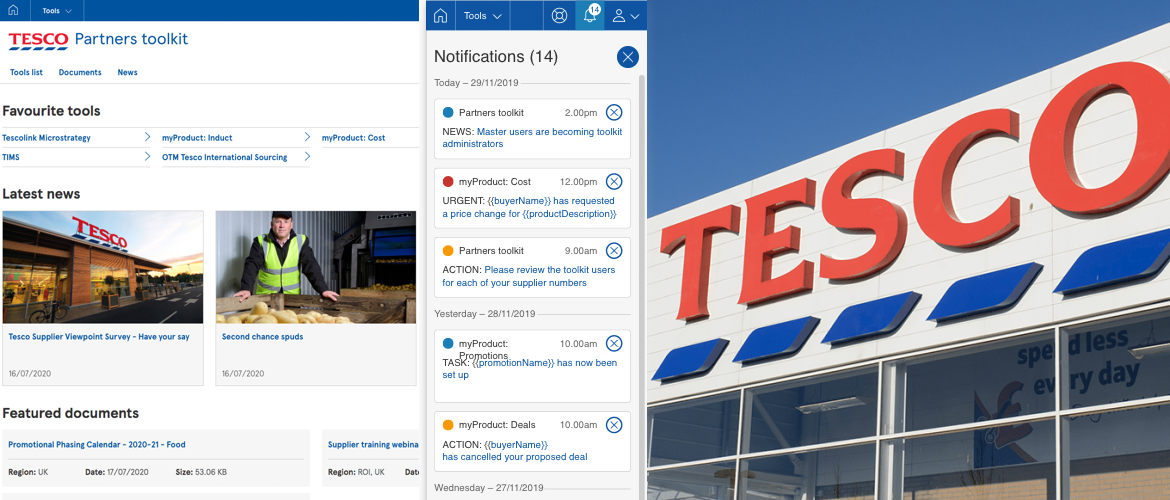 Tesco PLC is the third-largest retailer in the world measured by gross revenues, behind Walmart and Amazon. Tesco operates a wide range of retail formats, including supermarkets, hypermarkets, convenience stores, and online shopping. The company offers a variety of products and services, including groceries, clothing, electronics, household goods, financial services, and telecommunications.
At Tesco I was Lead Product and Service Designer leading a number of strategic projects that would enhance communication and productivity of Tesco suppliers and Tesco buyers when using Partners Toolkit enterprise platform.
The Tesco Partners Toolkit is a set of resources and tools that Tesco provides to its partners to help them manage their relationship with Tesco more effectively. Partners Toolkit is a scalable solution that consolidates productivity tools and data into a unified and intuitive interface that can be viewed in appropriate channels channels and implements shared features and functionality that deliver a seamless experience across all Enterprise tools.
In-platform Notifications
Create communication tool that is part of digital ecosystem enabling better engagement and collaboration between buyers and suppliers by providing the quick access to important information and helping with completion of key business tacks through a frictionless user experience.
Assessing existing notification Contact service that send notification emails to Tesco suppliers. Understand and document end-to-end user experience of Tesco suppliers (Partners) and Tesco buyers (Colleagues) when engaging with enterprise service platform 'Partner's toolkit' through different activities and processes including Induct (on boarding new product), Promotion, Deals, Costs, etc.
Conducting series of Interviews with partners and colleagues – understanding their needs and behaviours when they engage with productivity tools processes and email notifications.
Creating service experience maps and blueprints diagrams to outline touchpoints, interactions, pain points and opportunities.
Contact service process diagram for myProduct: Deals
Enterprise Tools: Service Blueprint diagram - myProducts: Deals
Email notifications – experience map
Based on interviews with Tesco suppliers (Partners) and Tesco buyers (Colleagues) I have conducted task analysis and created personas that outline current issues regarding email communication within existing workflow and emphasise the benefit from in-platform Notifications.
Created storyboards to illustrate how in–platform Notifications will increase responsiveness, improve time taken to complete tasks and increase user engagement.​
in-Platform Notifications - myProduct Deal scenario
Conducted expert evaluation and competitor analysis of current implementation of notification functionality in common social platforms.
Notifications - analysis of common approach
Designed solution that adapts popular feature of Notification to the business needs and improve the awareness and efficiency for Tesco Partners and Colleagues when completing tasks or receiving updates they need to work with Tesco, reducing the internal effort to support them.
Facilitated a number of workshops to define multiple use cases for in-platform Notifications
Workshop - cross platform Notifications use cases
Introduced 'superseded' behaviour for notifications – new approach based on task completion flow and logic that will manage the number of Notifications in notification panel. 
In-platform notifications - designs and prototype
Defined mechanism how in-platform Notifications will be generated: trigger points, integration with existing application 'Contact service', created epics for specific use cases across platform.
In-platform notifications - templates generation use cases
Clear, timely notifications in the right channel increased responsiveness, improved time taken to complete tasks and increase user engagement.​
In-platform Notifications  helped to bring together the entire experience, making it simpler to navigate between the different parts of the system, and reduce unnecessary journeys.
First notifications - initial results